July 9, 2021
One wants to travel, and one wants a dog.
Registered nurses Stephanie Lajoie and Jeanelle Ramos are this year's lucky recipients of the Wyrzykowski Family Graduate Nurse Endowment Fund. Both recent graduates – Lajoie from Université de Saint-Boniface and Ramos from the University of Manitoba – they each started their jobs at St. Boniface Hospital in October 2020.
The endowment fund was established to reward and support grads employed in their first nursing jobs at the Hospital. A random draw of the 60 eligible graduates hired in 2020 was held May 10th, during National Nursing Week.
"For our nurses, this draw was a bright light in a dark time," says Rhonda Cairns, Chief Nursing Officer. "We are so grateful to the Wyrzykowski family for creating this endowment fund and everything else they do for St. Boniface."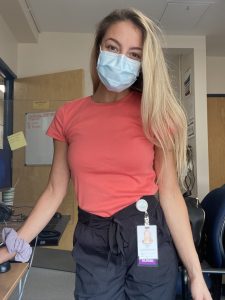 Lajoie was just getting back to work after taking time off, following a wrist fracture in February. "I got an email from my manager with the subject line 'Urgent'. I wondered if I had forgotten to fill out a benefits form or something; but when I opened it, it said that I had won the endowment fund draw. Then Mr. Wyrzykowski called to congratulate me not long after that," she says.
"As I was off work for two months with my broken wrist, the money was the best thing that could have come to me, at the best time," says Lajoie, adding she also moved in March. "I've paid off some stuff, and I'm going to Victoria in July on my vacation, to visit a good friend I haven't seen in years."
Ramos got a similar email from her manager. "She said that I had won. I thought, 'How? Why?' I had not applied for anything. Then I thought it was like a certificate or an award – at first, I did not realize it was for money! When I got something in the mail making it official, it was thrilling. It was unexpected at a stressful time, and much appreciated."
She and her family have decided they are going to get a small dog. "We're looking at a Bichon Frise-Poodle-Shih Tzu mix," she says. "It will be my first dog – we are going to pick her up in July, and I think we will name her Luna," says Ramos. She plans to put the rest into savings.
COVID-19 changed nursing roles
Lajoie is on the Hospital's Specialty Resource Team, a float pool for cardiology units. She works with cardiac patients before and after procedures (like angiograms) and cardiac surgeries, and for medical management. "Normally, I would get floated to all the cardiac floors that need a nurse," she says, but because of the pandemic her cardiology unit was changed to COVID and COVID-suspect units, and her duties there were changed soon after she started.
"I signed up to care for people in need – the most vulnerable people; the ones who need the most help. That is what I signed up for."
The only nurse in her family, Lajoie says she has always wanted to help people. While the pandemic was a big curveball in her first few months on the job, she does not see it as unfair.
"I find it funny that a lot of people say it's not what I signed up for, because it really is," she explains. "Because I signed up to be a nurse, and I signed up to care for people in need – the most vulnerable people; the ones who need the most help. That is what I signed up for. The patients who had a COVID scare or did come in with COVID – those were the most vulnerable people at the time, who needed help."
"I was just excited to be in the field, and finally able to help, but of course it was overwhelming and sad. I saw some things that I feel were rare to see as a new nurse. But I was working with such a good team, and COVID was new for everyone, so we all held each other up. They showed me what working as a real nursing team was like, right off the bat."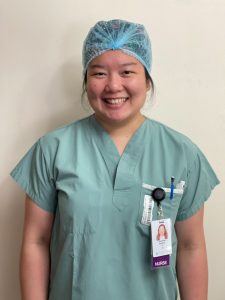 Meanwhile, Ramos works as an Operating Room (OR) nurse. She either prepares the instruments for surgery or stays with the patient through the process, from start to finish. "I don't think the Operating Room is usually what people expect it to be," she says. "Talking them through it gives patients some familiarity."
Her role also changed quickly because of the pandemic. "Usually, there's a recovery room where other nurses care for patients as they wake up after surgery," she says. "But because they were redeployed to the Intensive Care Unit, OR nurses like me have taken over the responsibility of recovering patients from the anesthetic."
Ramos, whose mother was a nurse in the Philippines, was drawn to the operating theatre because of its different scope: rather than caring for multiple patients on a ward, she likes taking care of only one at a time. She calms the patient's nerves and makes sure they are comfortable as they drift off to sleep. "During the operation, you watch them. They often cannot talk to you; so, part of it is to do all the speaking for them. And I'm with them at the bedside when they wake up."
"Working at the Hospital has been extra stressful and more intense because of the pandemic, for sure. I'm still learning as I go, but I'm hanging in there…hopefully, I'll look back and be grateful for those experiences, because they helped prepare me for what I will become. But we'll all be happy once the pandemic is over," she says.
---
Support St. Boniface Hospital nurses on the front lines like Stephanie Lajoie and Jeanelle Ramos. Donate today.