Doug Wark has high praise for St. Boniface Hospital staff after open-heart surgery.
As a bonus, now well into retirement, he learned something new about the company where he built a three-decade career.
The Brandon resident, 73, underwent double bypass surgery and an aortic valve replacement on Sept. 10. Recovering in hospital, he was urged to cough to prevent a fluid build-up that promotes pneumonia. A heart-shaped pillow made it easier.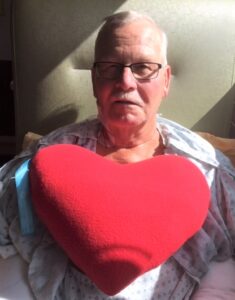 "Coughing doesn't hurt nearly so bad with this pillow. It gives you confidence."
Wark, who retired from MTS in 1996 – then still named Manitoba Telephone System – learned the supportive pillow was assembled by Bell MTS volunteers.
"That made me appreciate the volunteers and the effort."
Bell MTS Volunteers – an organization of current and former employees, friends, and family – provides volunteers and resources to a wide variety of people, organizations, and events across the Manitoba.
Their Heart Pillow Project provides cardiac surgery patients at St. Boniface Hospital with handmade heart-shaped pillows aid in post-operative deep-breathing and coughing exercises. The pillows provide compression against the breastbone as it heals from a surgical incision.
Jo-Anne Pelzer leads the volunteers in making some 900 heart pillows a year – each "made with love and never used in a pillow fight."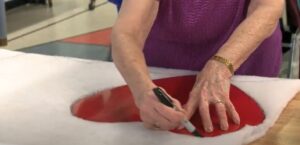 Nearly eight weeks removed from his stay at St. B., Doug Wark is still using his heart pillow. He's keeping busy at home, with a grateful heart of his own.
"I can't say enough about Dr. (Michael) Raabe and his entire team. Dr. Raabe was great at explaining what was going to happen. I had a super bunch of nurses. Some of the nurses are very young, but they're all so professional. They had me up and moving in no time."
"Thanks to the team, I was cool, calm, and collected. I was under the bright lights – about to go under – and I hollered 'I'm going for (age) 90!'."
---
Grateful for the care you received at St. Boniface Hospital? Say thanks!