August 17, 2021
It was August 1958 and Ethel Hook – then a young woman of 18 – had just left the family farm and her small, tight-knit community in rural Manitoba to enrol in the St. Boniface Hospital School of Nursing in Winnipeg.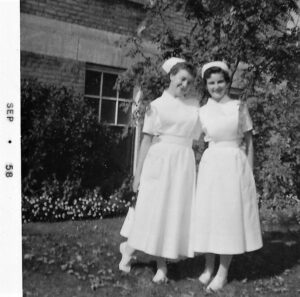 "My mother, father, and aunt had dropped me off at the Hospital. I had never been there before. As I stood behind the statue of Jesus at the front of the residence and watched them walk away, I thought, "My life will never be the same and boy, was I right," said Hook with a chuckle.
This year, as the Hospital marks its 150th anniversary, Hook and her nursing classmates are celebrating the 60th anniversary of their graduation. Of the 53 student nurses who completed the three-year program in 1961, 38 of them are still living. They have held a reunion "like clockwork" every five years without interruption for 60 years. Hook, who lives in Winnipeg, has played a coordinating role for her classmates over that time, keeping everyone in touch and up to date on the latest news and events.
Many of them have known each other longer than their spouses, noted classmate Carol Cochrane, also of Winnipeg. "We share a special bond," she said. Cochrane, too, has been instrumental in coordinating reunions over the years.
"Those three years changed our lives."
"These are dozens of women with whom you shared everything: bathrooms, telephones, laundry facilities. I gather some girls even shared boyfriends, but I won't go there," said Hook. "Even before we finished our training we were often faced with life and death issues in the Hospital. Back then we ran the place, especially on weekends, and we grew up very quickly."
"Almost every girl in our class had a boyfriend when we started and I think of those who graduated, only two among us married the fellows they were going with. Those three years changed our lives. They became my community; it just seemed natural that we would keep in touch somehow…My world was opened, and I didn't want to lose it."
Reunion went virtual for 2021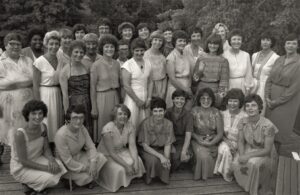 "This year was the most emotional reunion we've ever had", said classmate Bobbie Carey, from her home in Sidney, B.C. The pandemic forced them to go online, where they caught up in a 20-person video conference call, sent many emails back and forth, and enjoyed music from the 1950s and early '60s on an Internet radio station custom-programmed for the reunion by Cochrane's son. The festivities lasted for almost a full week; "We heard a lot of Elvis Presley," she said.
"The emails went on for days", said Carey. "In some ways, we benefited from the pandemic because we were forced to find another way of communicating. It turned out to be the warmest, the best, the friendliest and the most exciting of what we had. It just sealed our relationships which have evolved and grown stronger over the 60 years. It is a tribute to the Grey Nuns. Our three years of 'semi-convent' living with them at St. Boniface Hospital allowed us to grow up together and learn to deal with life and death," she said.
"One thing we all developed was support for each over the three years. Nursing students today don't have quite the same experience of living in residence."
All three nurses agreed, "We often didn't have a lot to do with the women who lived on the other floors. However, through our reunions we have gotten to know, appreciate, and care for them and each other. Our whole graduating class has a special bond."
---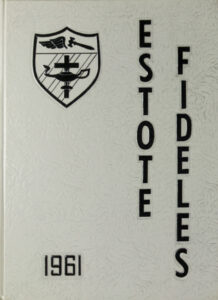 Support today's St. Boniface Hospital nurses on the front lines. Give generously.