All artwork in photos by Susan Turner, courtesy of the Buhler Gallery at St. Boniface Hospital.
May 4, 2021
As St. Boniface Hospital Foundation's new President and CEO, Karen Fowler says she wants to see more of the visible differences that donor support makes in the outcomes of projects and initiatives at the Hospital.
With more than 25 years of experience in fundraising to her name, few are better suited than Fowler to make sure those differences will be seen far and wide – a credit to the Hospital's community of dedicated donors.
"At the heart of it, I would like to see the Foundation's reputation for having a significant impact on compassionate health care and outstanding medical research at St. Boniface Hospital continue to grow in our community, in order to have the ability to make a bigger impact on health care and medical research overall," she explains. To date, the Foundation has raised more than $253 million for the Hospital.
Fowler, who has her Certified Fund Raising Executive (CFRE) designation, joined the Foundation in 2017 as a Major Gifts Fundraiser. She was promoted to Vice-President, Development and later named Interim President and CEO in 2020, and was certified in her role, effective March 26, 2021.
We sat down with Karen in April, to get to know her better.
Tell me about your background, and why you got into fundraising.
Early in my career, I discovered that I really enjoyed working for a non-profit organization, because I felt like it was something that I could do that made a difference.
I have worked for health-care fundraising organizations in Manitoba and Alberta since 1997. More recently, I worked at the University of Manitoba raising money for post-secondary education. In fundraising we say that, essentially, the work we are doing is either changing lives or saving lives. I had been helping to change lives at the University, but I realized that I really liked fundraising in health care because we get to work with donors who are also helping to save lives. I should give credit to the late Jerold (Jerry) Panas, a legendary fundraising consultant in the US who coined that phrase: "changing lives or saving lives". Everything we do as fundraisers comes down to that, in terms of fulfilling the mission of our organization.
What do you want to see the Foundation accomplish under your leadership?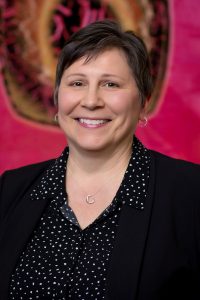 At my core, I would like to see the Foundation continue to raise money for the priorities in the Hospital that will make a transformational difference in patient care and medical research. Projects that we know will impact hundreds, if not thousands, of lives. When you have a project like that to fundraise for, donors get excited about supporting those types of things.
How can St. Boniface Hospital Foundation donors have the most impact?
We've been very fortunate over the years to have many individuals and organizations step forward who wanted to make a difference in health care and have funded priorities in the Hospital and Albrechtsen Research Centre.
When I came here, I really got the sense and the understanding that even though I was here to fulfil a role of finding new donors to support the Foundation, the other fundraisers I was working with had a very well-established group of donors who have been very loyal to this Hospital. When you look at the investments these donors have made over the past 50 years, you realize the depth of their connection to St. Boniface Hospital and their willingness to invest in making a difference, which is inspiring.
What is your impression of St. Boniface Hospital Foundation donors?
I have had the opportunity over the last three to four years to speak with donors who have been giving here for a long time, and you truly get a feeling that our donors are grateful for the opportunity to make a difference at the Hospital. It's amazing to see the excitement in their eyes.
You have that opportunity to see people get excited and emotional about projects, because donating is not a transaction – it's an emotional decision. So, you can see what motivates people. They are entrusting you with their investment because they believe you will help them do good in the world.
Who or what motivates you?
It boils down to this: I have a job that I love because I can make a difference in the world.
I think the best feeling ever is when you have worked with a donor to make a gift towards a project or initiative in the Hospital, and then you are able to bring in the program people to report back and tell the donor about the difference their gift has made. It's always thrilling to see how excited people get about having that opportunity. It's that level of trust that donors place in you that I think makes this job so important.
What was your first-ever job?
I worked at the Bonanza Restaurant on Henderson Highway. I was 15 years old, had just finished grade 9, and was the "beverage girl" at Bonanza. (Laughs) I poured the drinks; basically, made sure the soda was always topped-up, passed guests their glasses, or gave them a coffee or whatever, and slogged the dirty glasses to the back for the dishwasher.
At the time, I didn't think I was learning much, but I realize now that I was learning the fundamentals of building relationships with strangers who become a part of our community. Here at St. Boniface Hospital Foundation, I now have the privilege of working with an amazing community of donors who support the mission of the Hospital through their actions. I am thrilled to take on this new role.
---
Help write the next chapter. Donate today.