First as a boy and all through junior, senior, and beer league hockey, Sean Barnes has worn number 13.
So on July 30, as Barnes found himself in station 13 at St. Boniface Hospital's Bergen Cardiac Care Clinic for the insertion of a stent in his left anterior descending artery, it was an omen for good luck.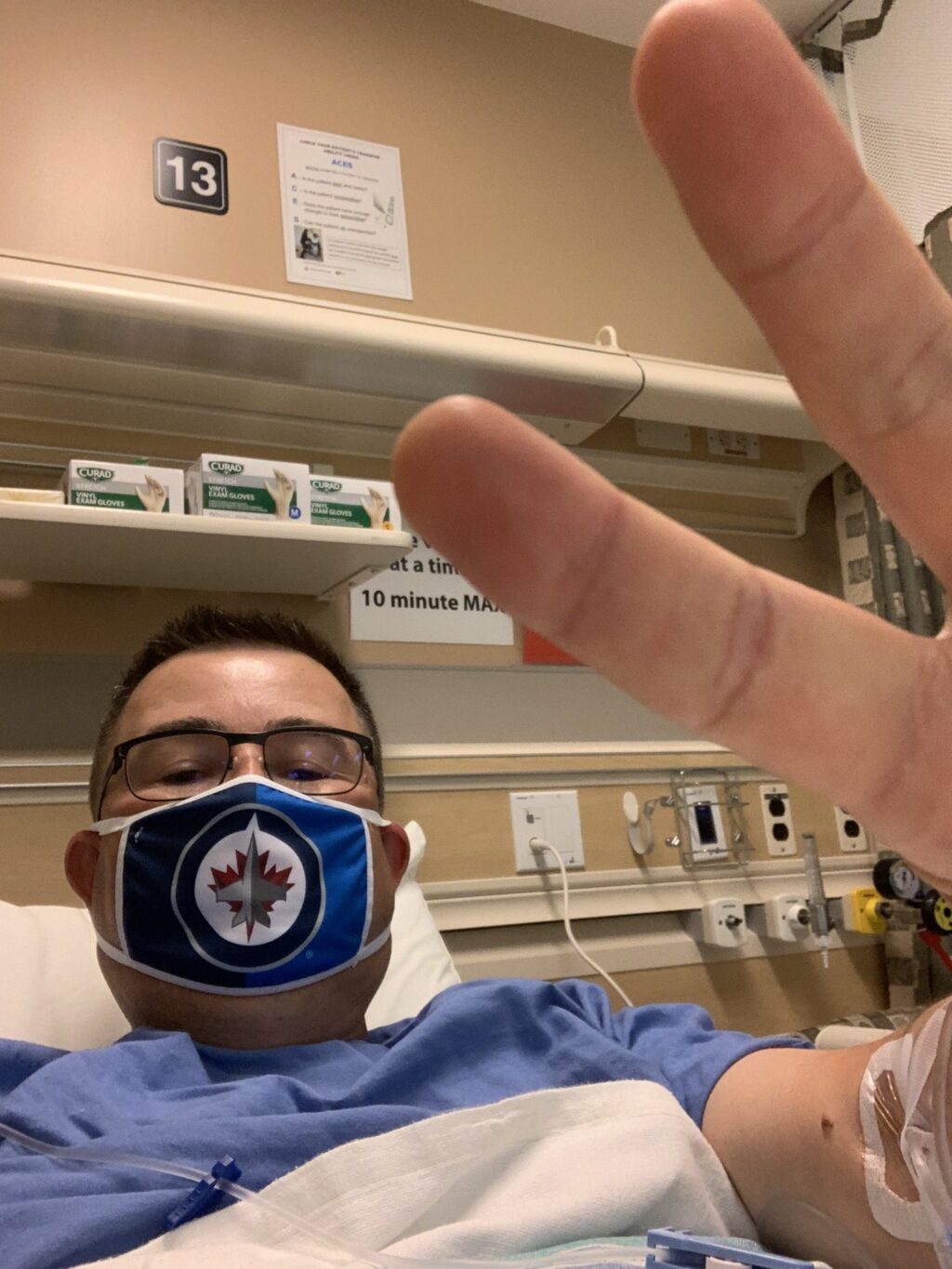 "Staff joked they lined up 13 just for me," said Barnes, whose Twitter handle is – that's right –  @SeanBarnes13.
While he has no qualms upending superstition about the notoriously unlucky number, Barnes says he's more grateful than "lucky". The dad, husband, coach, and Vice President Special Projects with PCL North America is also a cancer survivor.
In late 2018, he underwent surgery and endured 12 rounds of chemotherapy to successfully treat colon cancer. A follow-up appointment earlier this year identified concerns with his heart, leading to further investigation at St. Boniface Hospital and the discovery his artery was 70 per cent blocked.
"I'm an active guy and I wasn't experiencing chest pain or any other symptoms. I'm grateful and happy it was caught. I came in at noon and I was home by 9:30 that night."
Though all went well with his stent procedure, Barnes heeded the advice of his St. B. doctor one week earlier, when he rescheduled a family vacation at Sioux Narrows on Lake of the Woods.
"I was surprised. But he said if I did have heart trouble out there, I'd be going to Kenora first and then by helicopter back to Winnipeg and then over to St. B. He didn't like the prognosis for my survival if anything went wrong."
Barnes holds St. Boniface Hospital in high esteem for the care he's received – especially with COVD-19 a major factor.
"The hospital has adapted to an enormously challenging environment with COVID-19," he said. "They recognize a patient's anxiety, especially when you can't have family at your side."
"The nurses, doctors, all the staff – they all put a patient at ease."
A lifetime fan of the Winnipeg Jets, Barnes was closely following the team's progress in this NHL's post-season. Luck did not favour his favourite squad; injuries to star players contributed to the Jets' first-round elimination at the hands of the Calgary Flames.
---
Your support helps St. Boniface Hospital provide excellent cardiac care and pursue ground-breaking cardiac research. Donate today.