A nasty case of pneumonia saved Dylan Hill's life.
At only 42 years old, Hill was fit and healthy. He had been in the Canadian Armed Forces Reserves for five years, and passed the required physicals. He had even run a full marathon in 2007 without any obvious signs of a problem.
When he came down with pneumonia at the end of 2016, he went to see his doctor about it. While examining Hill, he discovered he had a heart murmur.
Hill's doctor scheduled follow-up tests, including an echocardiogram – one of about 10,000 performed at St. Boniface Hospital each year. It confirmed he had bicuspid aortic valve disease (BAVD).
Most people live their entire lives without thinking much about the Hospital, until the day comes that a friend, or loved-one, or they, need to be in one. Suddenly, Hill became one of more than 63,000 patients St. Boniface Hospital's Cardiac Sciences Program cares for on an annual basis.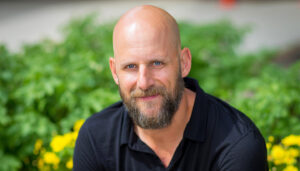 With BAVD, which is present at birth, his aortic valve wasn't working properly, but had been working "adequately" for years without causing symptoms.
The cardiologist told him BAVD would cause his heart to enlarge, because of the extra workload it had to do, and put him at a greater risk of heart attack or other sudden cardiac events. The doctor said he needed to have open-heart surgery soon, to repair the defective valve and in turn, save his life. He gave Hill no other choice.
"My impression was: left untreated, I would die," said Hill.
"That meant I would leave my wife of 15 years, Sheri, without her husband and our seven-year-old son, Luke, without his dad. I couldn't let that happen."
Going from feeling invincible to facing his imminent death, almost overnight, was terrifying. Just two months later, in January 2017, Hill was in open-heart surgery at St. Boniface Hospital.
The operation took about four and a half hours. The cardiac surgeon used sutures to contour his aortic valve, allowing it to seal properly for the first time in his life.
After Hill woke up in the Cardiac Intensive Care Unit (ICU) following his successful operation, he was still scared.
"Members of my care team, those that had saved my life, sat and talked with me, helping me work through my fear," he said. "The nurses' compassionate and high-quality care stood out to me as I grappled with a range of emotions."
Hill felt vulnerable for the first time in his life. "Then, one day, a volunteer came to visit me at my bedside. I don't remember his name, but he changed my perspective on life," he recalled.
"Here was a man who had been through an operation like mine. He sat and talked with me, helping me see it was possible to come out the other side. I wish I could thank that man for what he gave me."
---
Fight heart disease. Donate today.