May 25, 2021
As a runner and group fitness instructor, Sarah Carroll knows what a heart rate of 180 beats per minute (bpm) feels like. Experiencing it while lying in her bed with a fever was terrifying. (Normal resting heart rates for healthy adults range from 60 to 100 bpm, according to Heart & Stroke Canada.)
"I'm a personal trainer; I teach fitness classes; I lift weights; I do yoga; I bike, run, and swim multiple times each week," explains Carroll, who is also a run leader in the Winnipeg Run Club. "I'm quite in tune with my heart rate, and I do a lot of heart-rate-based training and teaching."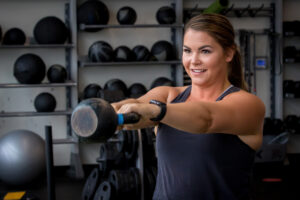 "I know that in a spin class or during a hard run what 180 bpm feels like, and you can't stay up there for long because it's so exhausting and hard to maintain. To have my heart beating like that at rest was scary. I thought I was going into cardiac arrest," she says.
With Carroll vomiting and her fever stuck at 40 C, her husband soon called for an ambulance. Hours later, she found herself in the COVID-19 Unit on the sixth floor of St. Boniface Hospital. At 31 years old, she found out she had contracted the highly contagious coronavirus variant known as B117.
School transmission suspected
Carroll is the mother of two young boys, ages 5 and 9. "There was an outbreak at my eldest son's school. So, he contracted it first; they were among the first schools to shut down in Winnipeg. Both my boys ended up with it – they had mild fevers for a few days, just flu-like symptoms," she says.
Catching COVID-19 from either of her sons came as a surprise. "I've always considered my husband and myself higher risk because I work in a gym, and he is a carpenter who spends a lot of time working in clients' homes," she says. "But we were careful, wearing our masks and social distancing. We had been told not to worry much about transmission in schools."
For Carroll, having COVID-19 was much worse than what she had heard, or seen with her sons. "Everyone says that it's mild when you're young and healthy, but it hit me like a tidal wave. On April 27th, I ran 5 km on my treadmill, no problem. The next day, on April 28th, I woke up not feeling great. My youngest was not feeling well either, so I thought he and I would both go and get tested. By April 29th, I was in an ambulance headed to the hospital. It happened that fast."
Her husband never caught the virus. "I think we got lucky, in a sense; I was hospitalized before I even knew I had a positive result," she says.
After first being admitted to the Victoria General Hospital, she could not be moved to the COVID-19 Unit at St. Boniface Hospital without a positive rapid test result, which came within hours. Her positive result from the earlier clinic test arrived around the same time, double-confirming the diagnosis.
Nurses provided compassionate care
With her fever raging and not responding well to medication, Carroll's first few days at St. Boniface were a blur. She received oxygen, to help compensate for her shallow breathing.
"In my second or third day in the hospital, when I was in the worst of it, I remember thinking that at that moment I could see how people would tap out. It was so hard and exhausting in those moments. I could see how, if their body wasn't as strong, how they wouldn't be able to get through it."
She was told she was among about 37 patients in the COVID-19 Unit, separate from the most severe cases in the Intensive Care Unit. The numbers shocked her. "The beds were full; the rooms were full. They had to start doubling up in rooms. Because I had a more contagious variant, I was not given a roommate, but there were lots of others doubling up in the rooms," she remembers.
Even in such crowded conditions, Carroll's caregivers did an amazing job, she says. "I can't say enough good things about the care I received. The nurses all were so compassionate. I couldn't be with my sons, who were also sick, and I was alone battling COVID. They were calling my husband and then giving me updates on my kids' health. They made what was for me a crappy situation feel a lot less scary, and with so much grace and love for what they do."
Still, the unrelenting pressure showed in her nurses' faces at times. "One nurse was there for 16 hours. They all looked exhausted. They were talking about being concerned and scared because so many young people without prior health conditions were coming through. They told me it was a lot harder for them to see younger people in the COVID-19 Unit," she says.
Fellow members of the Bridge Forks Running Club visited Carroll from afar, on May 4th, some of whom dressed as characters from Star Wars to cheer her up. "We usually meet every Tuesday at the Forks. The run leader changed the route that week so they could all gather under my window. It was nice seeing them!"
Carroll was discharged from St. Boniface, May 7th, after a week in the hospital. "At the end of my stay my resting heart rate was back where it should be in the 50s," she says.
Walking the road back to health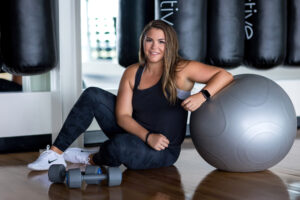 On her first day back home, Carroll set a goal for herself: walk to her mailbox and back. Since then, she has increased her physical activity little by little, which she sees as an important factor in her recovery.
"I have noticed that, since I've been walking again, it's been helping to clear my lungs," she says; adding, "I'm using this time to recover. I'm detoxing my body because I wasn't used to all the steroids and medication, and I'm focusing on my nutrition."
"Although there were some dark days, I'm up to walking 5 km per day now, and hoping to start running again by next week," she explains. "I do credit my physical conditioning with helping me to recover. I think the experience has made me even more passionate than ever for what I do – it proved to me how important it is to stay healthy and in shape."
---
Support excellence in patient care at St. Boniface Hospital. Donate today.