Looking at the brushwork and bright colours in Ludolf Grollé's new "flow series" of seven paintings, you might be seeing one man's experience of having a heart attack and his subsequent recovery.
It's really all up to you, said Grollé, who is a European-born, Winnipeg-based artist.
"Each person's experience is different," he said, leaving each painting open to one's own interpretation. He is internationally known for his abstract expressionism as well as impressionism. The flow series offers a cardiac patient's perspective on his own near-death experience.
Grollé is selling his art to help raise funds for St. Boniface Hospital's Cardiac Sciences Program, through the Foundation.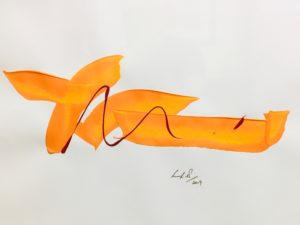 This summer will mark ten years since Grollé collapsed at his home in Winnipeg, in June 2010. His right coronary artery was more than 90 per cent blocked, threatening his life. Paramedics rushed him to St. Boniface Hospital, where four stents were put into his heart to open his arteries.
During the operation Grollé suffered a hospital Code Blue: cardio-pulmonary arrest, in the Hospital's Cardiac Catheterization Lab. His life was saved, but it took him more than a year to recover completely.
"Straight after my heart attack, I had started painting a little bit differently, in a style that has to do with flow. As in, blood flow; cardiac flow," he said.
Grollé exhibited his flow series in the I.H. Asper Clinical Research Institute at St. Boniface Hospital, February 12, for Wear Red Canada. The annual nationwide event is organized by the Canadian Women's Heart Health Alliance (CWHHA) to bring awareness to women's heart health and heart disease across all regions of the country.
"People tell me my art has a calming influence, and it's soothing. I only paint when I'm happy; I only want happy feelings, and I wanted to portray the calmness," he said.
"I believe in the psychology of colour, and I believe that the primary colours I used for these paintings are quite soothing."
Dr. Olga Toleva (pictured above, at left, with Grollé), an interventional cardiologist at the Hospital, invited him to show and offer his paintings up for sale as part of the Wear Red Canada regional event in Winnipeg, in which he became part of a joint exhibition with fellow Winnipeg artist Melva Widdicombe, who also submitted her paintings.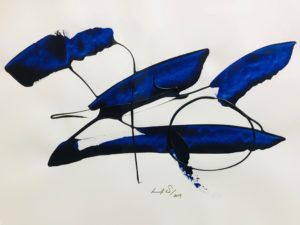 Grollé will donate 25 per cent of the sale prices to the Hospital's Cardiac Science Program. Prices range from $2,250 for one original painting, up to $10,000 for the complete series.
---