When past and present St. Boniface Hospital researchers look back on breakthroughs made in the last 30 years, they have donors like Clark and Carole Sinnott to thank.
The couple met in Grade 12 at St. Boniface Diocesan High School and, over almost 50 subsequent years of marriage, they have given to St. Boniface Hospital for more than three decades. They've joined the Monthly Giving program, and Clark is a Legacy of Hope member with a gift to the Hospital in his will.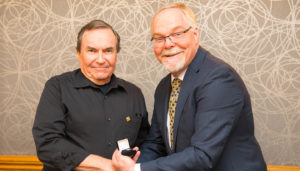 "I'm getting a little older…once I'm gone, there will still be some money for St. Boniface Hospital Foundation to use," he said, on the phone from the couple's longtime home in North Kildonan. "Hopefully that won't be for another 20 years or more," he added with a chuckle. With a gift in his will, Clark knows he will be supporting research for generations to come.
"We are proud to be part of this wonderful organization and plan to continue supporting in the future."
They also made a special donation to the Foundation's COVID-19 Response Fund, established this spring to ensure the Hospital stays well-prepared in the fight against the virus.
The Sinnotts have held a keen interest in supporting the groundbreaking medical research taking place at the St. Boniface Hospital Albrechtsen Research Centre. The generosity of donors like them has made numerous discoveries possible – from studies into Alzheimer's disease and other neurodegenerative diseases, to cardiovascular sciences, to agri-food and so-called "superfoods" research.
"St. Boniface Hospital is world-renowned in many areas of research, which is wonderful," said Clark. "Their amazing work is leading to all kinds of cures, identifying potential treatments and other such things. That's been one of the main reasons we give."
The Sinnotts recall a past presentation by Dr. John Foerster, the first Executive Director of Research at the Hospital (1986-2006). "He told us that even though we may think our modest monthly donations are not much in the great scheme of things, in fact they 'prime the pump' to attract millions of dollars more in government research grants and other major sources of funding. So, we're proud to help out in that way."
COVID-19 research needed now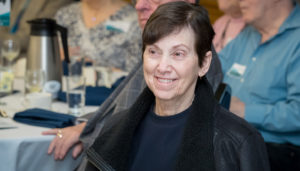 Carole's history with St. Boniface dates to her teenage years (unless you're counting the fact it's where she was born), when she remembers stacking dirty dishes in the Hospital kitchen as an after-school job. Later, Carole followed her interest in science and medicine, and trained to become an X-ray technologist and, after graduating in 1970, she worked in the X-ray Department. In the 1990s, she completed courses in Ultrasound and Echocardiography. She worked term and part time positions in units at the Hospital and Health Sciences Centre.
Her career also took her into the Military Reserves, where she worked first as an Army medic and then as an Air Force X-ray technologist. Now semi-retired, she still works part-time in small private X-ray clinics.
Meanwhile, Clark pursued a 37-year career with the Province of Manitoba, Department of Finance, Taxation Division, before retiring several years ago. The couple also raised two daughters (both also born at St. Boniface), and now enjoy time with their three grandchildren.
Unfortunately, restrictions in place because of the COVID-19 pandemic prevented the Sinnotts from hosting their traditional family dinner for Easter at their house this year.
"We know COVID-19 research takes a long time, but at least somebody is doing it. It's only through research that we're ever going to bring COVID-19 down to the level of any other seasonal flu," said Carole.
"The research has to be there; otherwise, these restrictions we have now would have to continue. Without research, or what our federal and provincial governments are doing, we would be confined to our houses forever."
---