Manitoba's first-ever virtual fundraising gala dinner was a sold-out, smashing success in slippers.
Forced by the COVID-19 pandemic to reimagine last year's Rosé Soirée cocktail party, which had been held in September 2019 in the St. Boniface Cathedral Ruins, St. Boniface Hospital Foundation and its partners in Winnipeg's restaurant and hospitality sectors went digital – all except for the gourmet meals and beverages delivered right to guests' front doors, that is.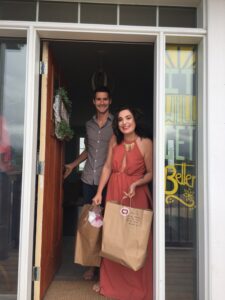 The newly renamed Rosé SoirIN became an elegant at-home gala, May 28, to raise funds for patient care and medical research at St. Boniface Hospital. More than 370 ticket-holders – some dressed in formal wear, others in housecoats – stayed home, while three-course meals with signature pairings were hand-delivered by dozens of volunteers to their doorsteps across the city. Meanwhile, many guests took to social media to share their experiences and photos using the #SBHSoirIN hashtag.
Foundation President and CEO Vince Barletta said he had received several comments from guests, raving about all aspects of the truly historic night.
"Many people used the event as an opportunity to come together with others, in small numbers. For some, this was the first time in months they had done so," said Barletta.
"Participants remarked to me that being part of an event like this made life seem a bit more normal again. We are very proud of that accomplishment."
While they wined and dined in their own living rooms, guests were given access to a private, 90-minute video stream of exclusive musical performances created just for them to watch on their smart TV, laptop, or mobile device. The lineup of almost 20 local and Canadian entertainers included Juno Award winners and nominees, buzz-worthy emerging artists, and even a homegrown Broadway performer. As the evening unfolded, several guests were surprised to see their names appear on-screen as door-prize winners of items such as a Hudson's Bay blanket and Apple AirPods.
Some popular highlights from the program included:
• Winnipeg pop and R&B/soul singer Roman Clarke, who performed his original song Faithful Man;
• Big City All Star Band singer Lisa Windsor being joined on camera by her three-month-old son, Robin, and partner, Dean;
• Winnipeg-raised Filipina actor/singer Andrea Macasaet's stirring performance drawn from SIX the Musical .
The Foundation would like to thank those who made Rosé SoirIN possible:
Committee co-chairs Tom De Nardi, Doug Stephen and Louis Trepel, WOW! Hospitality and 529 Wellington, Piazza De Nardi, Nonsuch Brewing, Breakthru Beverage Group, Bounce Design, Nardella Photography, Contemporary Printing, Nicole Dubé and CTV Winnipeg, and Doug Speirs and the Winnipeg Free Press. Thanks also to all our local and Canadian artists for donating their time and talents.
---