June 14, 2021
Tanner and Christel Harms, of Steinbach, welcomed their new son, Quincey Rowe Harms, into the world on Monday, May 31, at St. Boniface Hospital.
The family had to stay in the hospital for observation over three days because Quincey was born prematurely at 37 weeks, but he is healthy. On Thursday, June 3, they brought him home, where he got to meet his older brother, Luca, 2.
As a thank-you to Foundation donors who made his family's stay at St. Boniface more comfortable, Tanner, 30, sat down with us (virtually) to answer a few questions in time for Father's Day.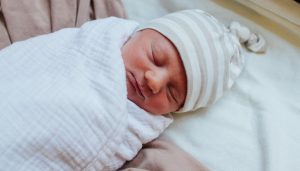 How did you choose your baby's name?
His first name we stumbled across, and both liked. His middle name is short for Roland, who was my wife's late grandfather.
What does being a father mean to you?
It means a lot of different things, but the biggest thing is to be there for my sons their entire lives. Starting from when they are born, and watching over them until they are grown men like I am. My dad still helps me out with my car, and whatever else I may need – any time I call him, he is there for me.
What was your experience at St. Boniface Hospital like?
My wife, Christel, went into the city for her 37-week doctor's appointment that morning. The doctor told her, "You're two centimeters dilated already; you could have this baby at any time," which came as a surprise because she still had three weeks until she was due.
Christel had some errands to run in Winnipeg. She texted me about an hour after her appointment was over, "I think I'm having contractions," but they were far apart. Later that afternoon, she said, "Hey, I'm starting to time my contractions and they're about ten minutes apart." We had not packed any bags, so I suggested she come back home, and we'll get things ready just in case we have to go.
At home, the contractions got to be about six to seven minutes apart, and I told her, "I don't feel like delivering this baby in the car. How about we make our way to Winnipeg?" So, we picked up our son from daycare and dropped him off at my parents, and then we left Steinbach.
By the time we reached St. Boniface Hospital, it was about four to six minutes in between contractions. As we were registering at triage, the contractions started getting more intense. The nurse there recognized that she might be in active labour, so they got her a bed right away. It turns out she was eight to nine centimeters dilated and pretty much ready to go.
Immediately they wheeled her to the delivery room, and by then it was too late for the epidural; they said, "This baby can come right now." Only 15 to 20 minutes later she had an urge to push, and two pushes after that we had a baby. It was wild. Quincey was born fewer than two hours after we got to the Hospital. I'm glad we went when we did!
What have you learned about fatherhood from your dad?
I'm sure there are several things. I think just modeling myself after him, the way he approaches different situations, and the way he handles things. I don't know that it was anything that he outright said, or he instilled in me that you have to do things a certain way.
"I think it was more just watching him over the years and seeing the way he treats people. I think my dad's actions have molded me more than him ever telling me to do something."
What are you most looking forward to with Quincey?
I have a brother as well, and I'm just excited to see both Quincey and Luca grow up together. I know what it's like to have a brother; that bond growing up and now into adulthood. I'm excited to see the people they become.
---
Donate in celebration of a birth, or in honour of a father or father figure in your life.