Cupcakes and community: NICU "graduates" and co-owners of Jenna Rae Cakes, twins Jenna Hutchinson (centre, left) and Ashley Kosowan (centre, right) chose St. Boniface Hospital's NICU as the bakery's community initiative of the month for August.
---
September 20, 2021
Newborn twins Jenna and Ashley Illchuk arrived eight weeks early in 1988 – two of the many infants who receive special care in St. Boniface Hospital's Neonatal Intensive Care Unit (NICU) every year.
Fast forward to the summer of 2021. As Jenna Hutchinson (née Illchuk) was at St. B. for the delivery of her second child, the NICU wasn't far from her mind.
"I would just walk by the NICU and start tearing up," said Hutchinson, co-owner, with twin sister Ashley Kosowan, of the popular Winnipeg bakery Jenna Rae Cakes. "I can't imagine the strength of all the nurses, doctors, and everyone."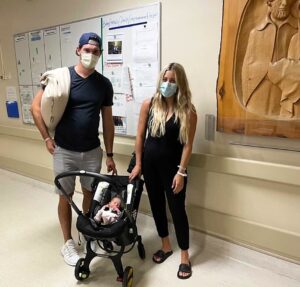 On July 8, Jenna delivered a healthy baby girl, Sadie. Thankfully without need for the NICU.
"The St. B. staff were amazing. I felt very taken care of."
Waiting at home with a warm welcome were Jenna's husband Mike, a goaltender in the Toronto Maple Leafs system; and Lilah, their two-year-old daughter.
So moved was Jenna by the care she received during her hospital stay that Jenna Rae Cakes chose St. Boniface Hospital's NICU as its community initiative of the month for August.
All month, a portion of proceeds from cupcake sales at the bakery's three locations and through its online delivery provider were earmarked for the NICU. With cupcake enthusiasts doing their part and indulging their sweet tooth, the Jenna Rae Cakes community came together to raise $2,043.65.
"We received direct messages from people who have experienced the amazing work the NICU does," said Hutchinson. "And they expressed their gratitude for being able to support somewhere that had been so supportive of them."
"It was an absolute pleasure to share about the vital work that the St. Boniface NICU does."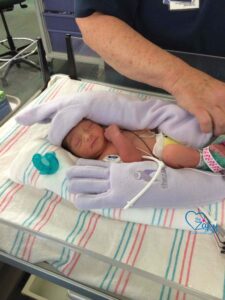 Helping NICU newborns sleep, grow, and develop
The gift will help the NICU purchase Zaky HUGs – hand-shaped pillows that extend a loved one's touch, weight, and scent, helping babies feels safe, loved, comfortable, and relaxed.
Since opening its doors in March 2014, Jenna Rae Cakes has held community support as a core value, Hutchinson said.
"We always like to give back. Through our monthly initiative, we've been able to support all kinds of good causes, and at a level we feel can have a significant impact."
"Anything to do with babies is close to our hearts, of course."
---
Be a lifeline for NICU babies. Donate today.