April 23, 2021
National Volunteer Week is celebrated annually in April. This is a special opportunity to recognize the 350-plus volunteers that come through St. Boniface Hospital's Volunteer Program. Our dedicated volunteers collectively accumulate 40,000 hours of donated time during the year!
Over the past week on our social media @STBHF, we have been spotlighting some of the wonderful volunteers and sharing their stories. In case you missed any, we have brought them all together here for you to read. Whether it's been one year, or eight, these volunteers and so many others have shown their endless kindness in making a positive impact at St. Boniface Hospital.
Martin Dupuis has volunteered for 1 year, 7 months for a total of 273 hours. Martin is a newspaper delivery volunteer but returned during the pandemic to help as a Main Entrance Ambassador, helping patients find their way to appointments when they come to the Hospital. Martin is a caring volunteer and is always eager to lend a hand to our patients. Martin will be going into this 3rd year at Université de Saint-Boniface taking sciences and says that volunteering has also provided him with some much-needed social interactions during a very non-social time, something that he is very grateful for.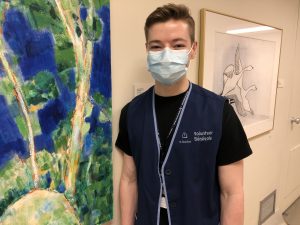 Randy Hull's history with the Hospital began before he knew it, with his own birth. Later, his two sons were also born at St. Boniface. He started volunteering in 2018 delivering newspapers, and currently volunteers at the front entrance as an Ambassador assisting patients. Randy also writes in the St. Boniface Hospital Bulletin for staff, bringing some outside reflections and hoping to create some relief from anxiety, frustrations, and worries. "You may even see some of your feelings within the thoughts I share with you. I am not a clinical psychologist or therapist, but my years of experience in disaster response and dozens of debriefings, has given me great insight into how people react differently in high-stress events" Randy shared in relation to the pandemic. Randy also shared the following song https://youtu.be/QsHuV3Aj1os that he would listen to in University in the late 70's when he was overwhelmed. Music is a great medicine!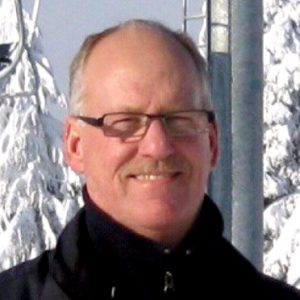 \
Amir Shirzadi has volunteered for 1 year, 5 months for a total of 115 hours. Amir is a Dialysis and Main Entrance Ambassador volunteer, helping patients coming for dialysis treatments and helping them find their way in the hospital. Amir is caring and helpful to all patients who come to St. Boniface Hospital. He recently graduated from the University of Manitoba where he studied his Master of Science in environmental engineering. He enjoys photography (very amateur!), is interested in landscape and wildlife photography, and loves to go hiking and enjoy the outdoors.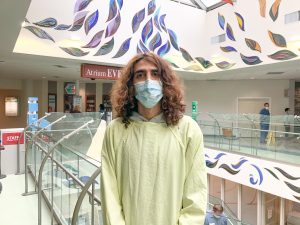 Jemimah Wade has volunteered for 1 year, 4 months, 65 hours. Jemimah is a Buhler Gallery Hostess, greeting visitors to the gallery. Her warm and friendly personality greets all those who visit to step away from a sometimes-stressful environment. Jemimah is a member Service Rep for Planet Fitness, and in her spare time she loves to write movies and stories, enjoys reading, and is always willing to help anyone in need.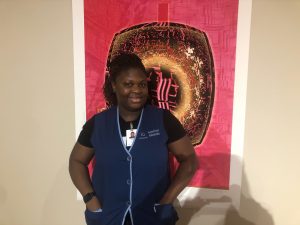 Dennis Sweeney has volunteered for 8 years, 1 month for a total of 2,663 hours. Dennis is a Main Entrance Ambassador and takes care of organizing the bulletin boards in the Hospital. Although Dennis has not been back since Volunteer Programs have been on hold, we have been in touch with him over the last year and his dedication and compassion has continued throughout the pandemic by his many calls, emails and words of support and encouragement that he often sends to all staff at the Hospital. We are grateful for everything Dennis does for the volunteer program and the Hospital.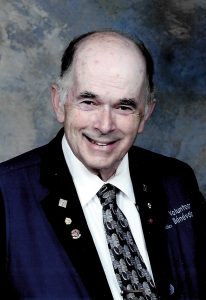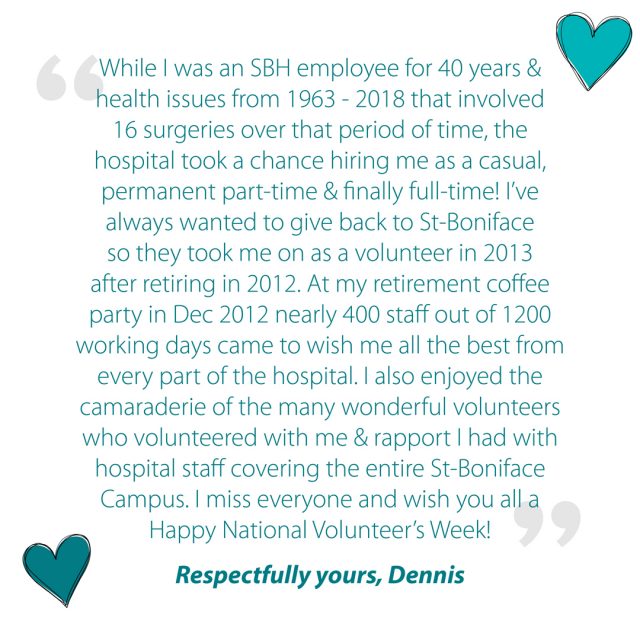 Thank you once again to all the volunteers at the Hospital, and for all that you do. We appreciate your time, kindness and support to the patients and staff all year long.
If you are interested in the St. Boniface Hospital Volunteer Program, CLICK HERE.