Born at 27 weeks, Mason, now 4 years old, shows he's as strong as the foundation his parents have given him.
Photo courtesy of Chopp Photography
---
Mixed emotions overtake Brooke Vandal when she passes St. Boniface Hospital, as on one August day following a family photo shoot at the nearby Fort Gibraltar.
"It's bittersweet, as wonderful as the Hospital is. It was our home for two months. It's amazing how a place can bring such joy, such as a birth of a child, to such sadness when your loved ones pass on. Life goes full circle."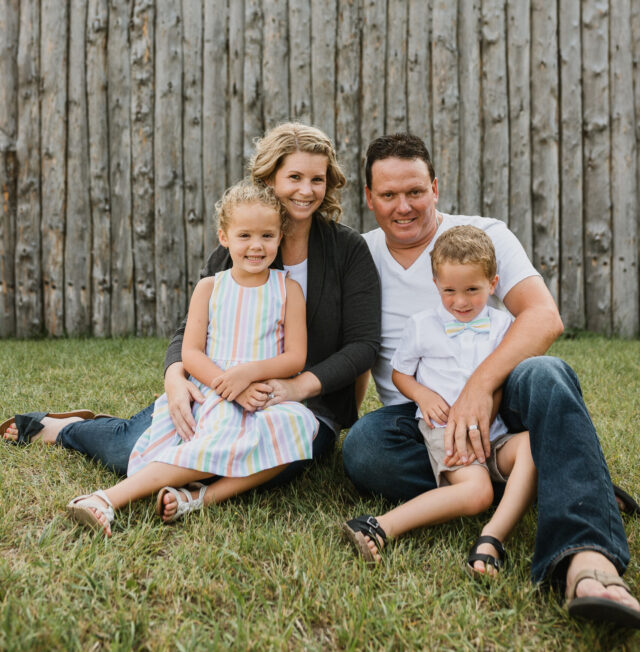 In the spring of 2016, Brooke, her husband Todd, and then 18-month-old daughter Kailynne, anticipated the arrival of a new family member.
What no one could anticipate was the baby's arrival at 27 weeks.
"I went to the hospital with what I thought was just another symptom of being pregnant. Turns out I was 8 centimetres dilated with a foot hanging out. It was like something out of an episode of Grey's Anatomy."
A 2-pound, 8-ounce boy was born by emergency Caesarean section.
"We didn't hear him cry; he was quickly rushed off with the NICU team. Todd looked at me and said, 'what do we name him?'"
A good, strong name
"I said 'he's strong, so he needs a good, strong name.' We called him Mason."
"We had the name picked out for a girl, but it really suited him. It's strong like masonry. It's funny – generations ago, my family were involved with the masons (fraternal order). An uncle of mine still is."
Shortly after Mason was born, Vandal was wheeled through the doors of the Neonatal Intensive Care Unit (NICU).
"I have never seen anything so small fight so hard," Vandal reflects. "Mason just needed to learn to breathe on his own. Skin-to-skin care is what got his brain going."
"I always knew what an NICU was….but it's not just for early babies; there are full-term babies with many issues. The baby next to us was touch-and-go every day."
Looking back at Mason's 60-day stay in the NICU, what stays with Vandal is the exceptional care.
She credits social worker Alicia Guilleminot with lending an ear and providing emotional support during challenging times. Sharing a community and with children the same age, the women have subsequently become friends.
"The doctors, nurses, therapists and social workers were not just there to do their jobs. They all gave comfort in different ways. We will never ever forget them."
This was not the first time Brooke Vandal felt that way about St. Boniface Hospital.
An uncommon circumstance in cardiac unit
In 2015, Vandal's father, Wallace Armstrong, came to the hospital for valve replacement surgery at age 61. Across the hall was her Uncle Glen, Wallace's brother, two years junior. He had recently undergone the same procedure but was now facing more-serious issues relating to his heart.
"My dad recovered, my uncle didn't. The doctor on call said it was the first time he'd looked after brothers at the same time who'd had the same surgery. Dad's attitude was that if he got another 20 years out of his heart, he'd be happy."
If his healthier heart means extra time to see grandchildren grow, Wallace Armstrong must be pleased.
The Vandals make their home in Ile des Chênes, 12 kilometres south of Winnipeg's perimeter. Mason, now 4 years old, rides the school bus with big sister Kailynne, who is in Grade 1. He's in a full-time French preschool program, plays hockey, soccer, and baseball, and is "a little fish in the water" according to his mom.
"Any little surprise from Mason brings us joy. We were ready that if he had a lifelong challenge, that would be okay. We're so grateful for St. Boniface Hospital, because it was very clear to us without their care, our lives could have been so different."
"The odd time we will run into doctors or nurses who were part of our journey, Todd can't help but to pull out a picture of Mason. The smiles that appears on their faces just make our hearts feel good."
---
Be a lifeline for NICU babies like Mason. Donate today.