Kelley had lived with a heart murmur all her life, but it never kept her from doing the things she wanted to. Then, something changed. She became more and more "breathy" going up the stairs. She chalked up a lack of stamina to work stress and menopause.
During Kelley's annual physical, her doctor noticed the heart murmur was more pronounced, and she was scheduled for an echocardiogram. It was then she was diagnosed with severe Aortic Valve Stenosis – a very serious heart condition.
She put faith in what she calls "the magical hands" of Dr. Pallav Shah, who installed a mechanical aortic valve to give her new life.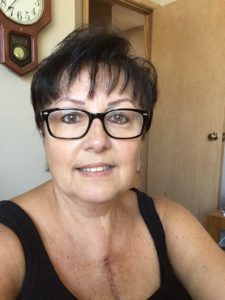 When Kelley recalls her recovery at the I.H. Asper Clinical Research Institute's Cardiac Intensive Care Unit and Ward, she thinks of the compassionate staff – the nurses, doctors, pharmacists, physiotherapists and various support staff who all played key roles in her ability to leave the hospital five days later.
"They didn't just handle my physical needs, but also my emotional needs," says Kelley. "Even the lab technicians I saw for weeks after – I was a 'hard poke' to draw blood – were gentle."
Visits to the lab, follow-up appointments, and even one trip to Emergency have been facts of life for Kelley. She has spent many hours at St. Boniface Hospital.
"I'm so grateful for each person who has played a role, from my diagnosis, to the operation, to my recovery."
At one time or another, nearly every one of us will go to a hospital – whether as a patient, visitor, or caregiver. Yet many who come to St. Boniface Hospital aren't one-time patients. They are patients, like Kelley, who require regular treatment for ongoing conditions.
You can help patients like Kelley survive and thrive! Funds from monthly donations ensure our cardiac care teams are skilled and well-equipped to perform life-saving surgeries. They also provide access to the latest techniques and treatment plans to help patients like Kelley live as well as they can, as long as they can.
---
Join our dedicated group of donors who provide ongoing, reliable support to the thousands of patients who depend on St. Boniface Hospital every month of the year.