Photo: Charmaine Mallari Photography
Michelle and Gilbert (Gil) De Jesus are silver-lining people. They're quick to smile and their optimism is contagious.
But they haven't had it easy. The last two years have been filled with incredible challenges for the couple – but with every hurdle, they've become stronger and they haven't lost even a spark of positivity.
Instead, they look on the bright side of things, taking hard lessons and looking at them with gratitude.
That's how they feel about their experience at St. Boniface Hospital, where their son, Grayson, was delivered at only 27 weeks in January 2018.
All signs pointed to a healthy pregnancy. Lucia, the couple's daughter, was excited to become a big sister. But on the morning of the memorial service for Gil's 99-year-old grandmother, who had just passed away, Michelle woke up early and knew something was wrong.
Within an hour, the couple was at St. Boniface Hospital – Michelle was in pre-term labour.
"The doctors told us that every hour counts."
"The longer Michelle could keep the baby in, the better," said Gil.
By the end of the day, Grayson was delivered, weighing only two pounds, eight ounces. So tiny, that he just fit in his father's open hands.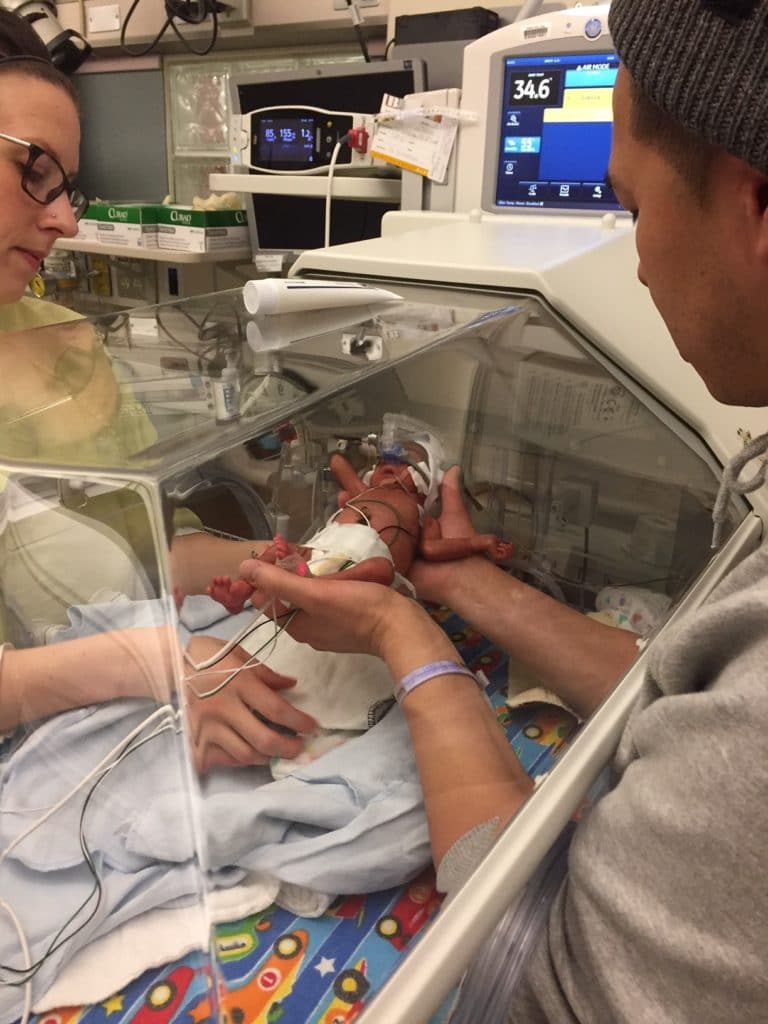 "I have to thank the nurses that were with me. I broke down and cried on the operating table; they comforted me during a time of uncertainty and grief," Michelle said. "It all hit me – Grayson was born a week after our Grandmother passed away and a week before the anniversary of my Dad's passing."
Life comes full circle
Every year, 15 million babies worldwide are born too early. Michelle herself was born prematurely in 1980 and spent a month in St. Boniface Hospital's Neonatal Intensive Care Unit (NICU).
"It was a rollercoaster of emotions. Grayson's unexpected birth came during a time when we were mourning the loss of a few loved ones. And I had to come to terms with the fact that he was a preemie and that I was a preemie myself – it was a lot to take in."
Grayson spent 99 days – three and a half months – in the NICU before he was able to go home. The couple treated it like a job – every morning they had their routine down, ready to go to the Hospital to spend the day with Grayson. Their goal: making sure Grayson was getting stronger.
"A lot of the families and nurses in the NICU while we were there, they weren't just patients and staff – they became really good friends," said Gil.
Michelle and Gil now volunteer their time every year at St. Boniface Hospital's Harvest Party, an annual event celebrating NICU graduates and their families.
"We like promoting the NICU and certainly how well they took care of Grayson – and how they took care of us. It's not just about the babies – they take care of the whole family," Michelle said.
Nearly two-years-old, Grayson is doing well. "He's good now – he's your typical kid," said Gil. "It's exactly what we were hoping for."
---