The nurses in St. Boniface Hospital's Neonatal Intensive Care Unit (NICU) called Cassandra Gordon's baby "Wild Child". He was a little fighter who wouldn't give up – from birth, he showed everyone he wasn't going to be defeated.
Gordon and her baby, Kenneth, live with their family in Rankin Inlet, Nunavut (NU), about 1,460 km north of Winnipeg.
"The Arctic is our home, and it's a beautiful place to grow up," she says. She and her common-law, Trevor Attungala, never in their wildest dreams expected to find themselves in St. Boniface Hospital last year, watching their newborn son fight for his life in the NICU.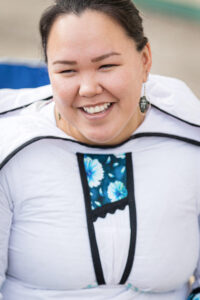 Becoming a mother was something Gordon had always wanted, and she was excited for her first pregnancy. "This baby was going to be my world, but my world soon turned upside-down," says Gordon. It was November 2019, and her water suddenly broke at 23 weeks, in only her second trimester.
"Before I knew it, I was being rushed on a charter flight from Rankin Inlet to St. Boniface Hospital in Winnipeg."
"At the Hospital, I was admitted and put on mandatory bed rest for two weeks. I waited and worried… I wouldn't wish it on anybody, but it was about to get even worse," she recalls.
When Kenneth was born at 25 weeks, he weighed just 2 ½ pounds. Right away, something went wrong: his premature lungs weren't working, and he wasn't responding to medication to help him take his first breaths. To Gordon, it felt like her own heart had stopped.
"They were trying everything they could to save him, but the doctor cautioned Trevor and me to prepare ourselves for the worst," she says. "Only about 30 minutes passed, but it felt like a lifetime. Then, a miracle! The doctor came back and gave us the best news we'd ever heard in our lives – Kenneth was breathing and stable. I called my mom back in Rankin Inlet and said, 'He's OK!'"
Kenneth had chronic lung disease at first, because his lungs were underdeveloped. "In the NICU, I couldn't watch when he had to be intubated – I would have done anything to take his place," says Gordon. Later, he was put on a continuous positive airway pressure (CPAP) breathing machine, with a little face mask.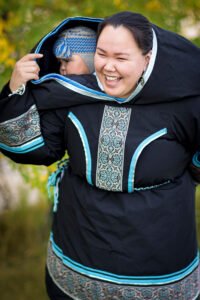 Meanwhile, the NICU quickly became the family's second home. The doctors, nurses, support staff, and Spiritual Care team made sure they understood everything that was happening.
Kenneth was put on home oxygen and discharged from the NICU in March. "We moved into a friend's house in Winnipeg, while Kenneth recovered from a hernia operation. Meanwhile, the pandemic had reached Winnipeg; we had to be extra careful and we took every precaution to protect his fragile health," she says.
"Our 'Wild Child' came off the oxygen in July, and by August we were finally able to fly back to Rankin Inlet, where his grandparents welcomed us home. Since then we've paid a visit to his dad's family in Baker Lake, NU."
Today, Kenneth weighs 22 pounds. He has a healthy appetite, and his lungs are working perfectly – no home oxygen needed.
---
Be a lifeline for NICU babies like Kenneth. Donate today.