May 5, 2021
Peggy Guimond's wish this Mother's Day? To simply enjoy time at home with her family. Beyond that, she wants to give her children the best lives possible, filled with love. That's been her goal from even before becoming a mother herself.
"I want my children to know and remember their mother as someone they can depend on and run to when needed," says Guimond.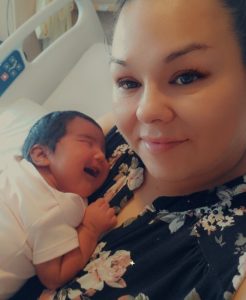 Lovelyn, born April 14, is Guimond's fifth child and her fourth born at St. Boniface Hospital.
At the time of this interview, Guimond was staying at the Hospital with the newborn, who had jaundice, a condition that causes babies' skin and the whites of their eyes to turn yellow. The nurses monitored the level of a naturally-occurring substance in her blood, called bilirubin, around the clock. Lovelyn received regular phototherapy, also known as blue light therapy, to break down the bilirubin and correct her jaundice before leaving the Hospital.
"The staff at St. Boniface Hospital are very friendly and helpful. They encourage you to do the best you can as a mother. Every time you need something, or you need help, they're always there. They've been caring throughout our long stay," she says.
Mother's Day has been difficult for Guimond in the past, because her birth mother left her at 13 years old. Guimond wishes her mom, whom she knows died in 2003, could meet her kids, and thinks she would have been the best grandmother to them.
"I enjoy the warmth of my children. Having them around me is what makes Mother's Day special."
Some might call Guimond a "supermom." She cares for her own five children, plus is a foster parent to two nieces and a nephew, who range in age up to 18 years old. She lives with them all in Fort Alexander, Manitoba, Sagkeeng First Nation, on Anishinaabe territory, with her husband, Farrel Guimond.
She was raised at Sagkeeng Child and Family Services with her younger brother, for whom she did respite work. She aged out of Sagkeeng and, in turn, worked for the agency before she started her own family.
"Motherhood is challenging, but it's rewarding, with lots of love, and great experiences to go along with it," says Guimond.
To relax, Guimond indulges in early bedtimes and loves driving to the city with her family. Before the pandemic, she would take the kids shopping or go on movie date nights with Farrel.
"Being a mom can get busy at times. You need a little bit of time for self-care and leisure to recollect yourself." Her advice to new mothers is simply to go with the flow and treasure the light and joy motherhood brings.
When she's not busy at home, Guimond manages a hockey team of 15 kids, which Farrel coaches. She loves family time most when she travels throughout Manitoba with the team and her kids. Their children love travelling the province, staying in hotels, and watching and helping with the hockey games.
Guimond meets friends and more families along the way, and she says they all come together as one big hockey family. "We treat the team as our own children and their families as ours. We keep close relationships with them," says Guimond.
She and Farrel, who has worked as an educational assistant in Fort Alexander, have been around kids their whole lives, so being parents came naturally to them.
---
Help mothers like Peggy Guimond this Mother's Day. Donate today, to help give them and their babies a happy and healthy start.