January 14, 2021
It's never too late to say 'thanks'.
A Winnipeg woman has reached out to St. Boniface Hospital to express her gratitude for the excellent care her late brother received before, during, and after his surgery at the Hospital in January 2018.
"Our family got to have him for longer than we might otherwise have," Susan Polz said of her brother, James Polz, who had complex care needs. He died last summer just shy of his 57th birthday.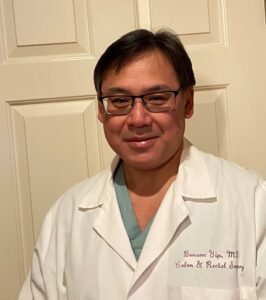 In particular Polz wanted to thank Dr. Benson Yip, the general and colorectal surgeon of 21 years at St. Boniface, who operated on James after he was diagnosed with an aggressive form of colon cancer.
James, 54 years old at the time of his surgery, faced many health issues in his lifetime. He had autism, which made communicating verbally a challenge for him, a neurological condition which caused seizures, and a recent history of stroke. Before the surgery, Dr. Yip made an effort to communicate directly with James, as well as talking to his family caregivers.
Reached at the Hospital, Dr. Yip remembered James Polz. "I thought he was quite a resilient individual. Obviously with all his medical conditions he was quite a fighter, in terms of dealing with problems daily for many years. I had a lot of respect for him as an individual," he said.
"Despite James' complex case – which included the need for contingency planning in case James seizured during surgery…nothing seemed to phase Dr. Yip as a clinician," Polz wrote in an email to the Hospital in December 2020. "Dr. Yip very capably navigated James' care and helped to respond to our questions as a family, and my own as James' substitute decision-maker," she wrote.
"I knew I would do something at some point, I was just waiting for the right time," she explained. "When James was alive, we were still attending to his health needs; he had some critical health issues that had come up, so those were obviously more pressing."
For Polz, it was worth her effort to write. "People often take the time to complain when things don't go right, but I don't think we take enough time to send messages about what was exceptional care. Certainly, I felt that this was a situation where it warranted the time to send something to acknowledge Dr. Yip," she said.
Surgeon connected with James
Because of his condition, James was considered non-communicative. But that didn't stop Dr. Yip from trying.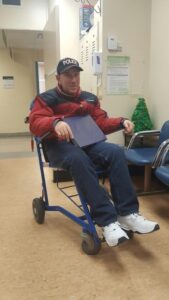 "At St. Boniface we get a wide variety of patients. We do get patients, such as James, that are more complicated," he said. "But you can still communicate with some patients in other ways, like visual contact or with eye contact and other non-verbal cues. You do have to keep the patient and the family in the same communication line," said Dr. Yip.
"I think it's always worthwhile trying to communicate."
"Sometimes obviously it's not effective, and sometimes you wonder if the patient is understanding you, but you have to try. You won't know unless you go through that effort. It does require more time, but definitely worth it," he said.
James would take a moment to smile when Dr. Yip spoke to him. His sister appreciated the surgeon's effort. "Aside from being clearly an efficient and competent clinician, Dr. Yip took the time to both include the family as part of James' treatment plan and decision-making team, but also to get to know James, so that he could not just speak about him, but speak with him. Given the number of complex needs that James had, the fact that Dr. Yip thought to do that was exceptional," she said.
Care continued after the operation
Many things go into patient care and recovery, said Dr. Yip. "No doubt that if the patient and family are well-informed, it does help with the patient's recovery. Because then everybody has a common goal."
Polz recalled a touching moment between doctor and patient. "One day I heard Dr. Yip talking with James at his bedside, when Dr. Yip had no idea that I was listening from outside the room. He clearly had taken the time to learn how to communicate effectively with James in a way that he could understand. This was so great to hear and was a big reason why James was able to recover so quickly from his surgery," she wrote in her email.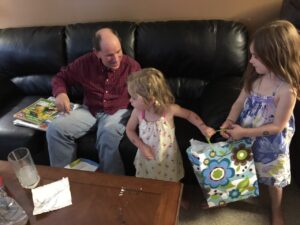 Today, Polz is still grateful for what Dr. Benson Yip let her have with her brother. "Family and friends were a large part of who James was. While he did not have much in terms of material items – I know this from having gone through his belongings recently, after he had passed away – looking back, it is amazing to see how many lives he had touched and the people he had brought together. He was a real blessing in that regard," she said.
Meanwhile, patient feedback comes both ways. "It is always better to get positive, as opposed to negative, but they're both constructive," said Dr. Yip. "Sometimes patients aren't happy with some of the care points; so, we're made aware of that, too. The interesting thing about emails, letters, and cards are that you never know where and when they're going to come from."
"Most patients are grateful for the care they receive, I think. At the end of the day that's part of our job: there is no doubt surgeons appreciate positive feedback, but I don't think any of us expect it. As surgeons, we realize it is a privilege and honour that patients and their families entrust us with the care of their health."
---