From a hero's welcome home, to the lingering reminders of his battle with the virus, recovering COVID-19 patient Rick Sterzer is taking life in stride.
Home is a peaceful cove in St. Vital, where all the neighbours know Sterzer and his wife Shannon Morden-Sterzer, and their dog Frankie. The afternoon of Sterzer's discharge from St. Boniface Hospital, the welcoming committee was waiting.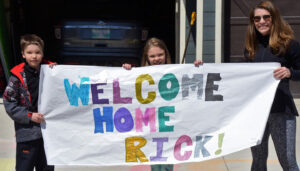 "We came around the corner and every house had a truck or a car out in the driveway," said the retired Winnipeg firefighter. "People were standing on their decks. Kids were cheering. There were signs and balloons and other decorations."
"I was speechless. It was such a nice tribute!"
The next day, Sterzer began a regimen to regain his health. "I started walking. First to the end of the street, then longer. Within two weeks, I was walking five kilometres in the morning and another five in the afternoon – and using my oxygen tank less."
With a self-fashioned backpack to carry his tank, Sterzer was a recognizable figure while out on his walks. People wanted to hear firsthand about his experience as a COVID-19 patient at the Hospital. Some kept a distance far greater than two metres, as though he remained infectious.
Sterzer says he understands. "Everyone has questions. So, I kind of relive the experience all over. And someone I know just immediately backed up on seeing me and, well, I had been virus-free for weeks. It was funny."
Vacation cut short
More concerning are the physical damages stemming from the virus and the stress on his body as he recovered in the Intensive Care Unit (ICU). Walks are more challenging because of nerve damage to his right foot which prevents the forefoot from lifting properly. The result is an abnormal gait Sterzer described as "goofy".
He's also monitoring the condition of his lungs. "When I take deep breaths, I still feel like someone is standing or pushing on my chest. My lungs were quite a mess."
If Sterzer is still adjusting to "the new normal", it's still a long way from the night of April 2. That was the night Shannon brought him to St. Boniface Hospital's Emergency Department. He was unable to stand on his own, struggling to breathe, and running a fever of 42.5 C (108.5 F).
Weeks earlier, they had been on a long-planned, transatlantic cruise with eight European stops. They were with another couple – close friends and longtime travel companions. Sterzer fell ill partway into the cruise, as did many more passengers on board. As COVID-19 spread across the world, the cruise was cut short. Sterzer's symptoms worsened while he self-isolated at home. After he first tested negative, a second test confirmed he had the novel coronavirus.
Back home, Shannon was also feeling unwell. She chalked up the fatigue and other symptoms to travel, including 11 hours on a plane back from Europe and onto North American soil. The Hospital considered her a presumptive COVID-19 case.
"I was in 'mom mode', taking care of Rick," she said. "I wasn't really focusing on myself."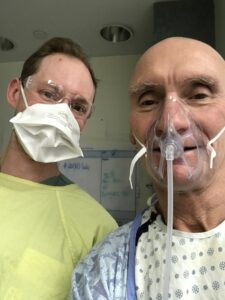 Rick echoes Shannon's sentiments. "The whole time I was isolating at home, she was feeding me and looking after me. Once I was in the hospital, she had time to reflect. That's when she started to decline; she had a couple of tough weeks."
"The caregivers were the reason I made it out."
Sterzer would spend five weeks at St. Boniface Hospital, including 18 days in the ICU. As much as the medical expertise, it was the human connections that gave him hope.
"The caregivers were the reason I made it out. Their support and encouragement carried me through my ordeal and gave me the strength to fight – for my life, actually."
Sterzer's hospital stay has taken his appreciation for front-line staff to a new level. "Being a patient opened my eyes to see what kind of person you have to be in these roles. The compassion they have is something you cannot teach."
Local media reported on Sterzer's condition while he was hospitalized. He decided to use the platform to deliver a message: "At first I was speaking directly to my fellow firefighters. I wanted them to take COVID-19 seriously and to take care of themselves. Now, I want everyone to do that."
"I put a mask on every time I go out. I know I don't have the virus, but it shows respect for the people around you," he said.
"I'm coming back. And Shannon reminds me all the time: 'Be happy. You're alive. You got a second chance. Every day should be a good one.'"
---
Join us in this critical response effort by giving to our COVID-19 Response Fund today.