Angie Gottfred is a giver.
At St. Boniface Hospital, Angie is the Program Team Manager for the Family Medicine Clinical Teaching Unit, the Neurophysiology Lab and the Medical Surgical Relief Team Nursing. Leading a team providing patient-centered care, she sees the difference donations can make.
"Often these gifts go to fund extra resources that enhance patient care. When looking after patients with memory impairment, we can access the Music and Memory program, therapy-dog visits, or art supplies. These little things can make a huge difference in the quality of our patients' day".
Helping those in need. That's the reason why, over the course of a nursing career that has included positions with several more Manitoba hospitals in addition to St. Boniface, Angie continues to give back.
"None of us know when we ourselves will be the patient. I'd want the benefit of the extras that make things a little better."
Angie has served on the Hospital's Employee Giving Committee for the past two years.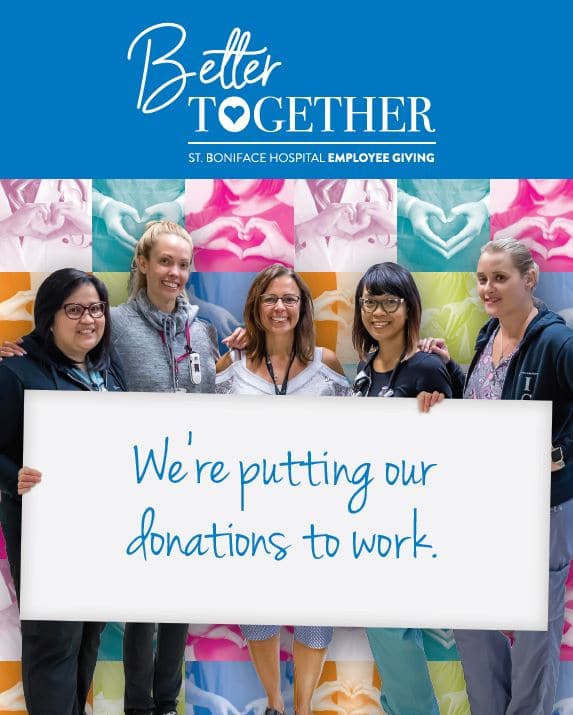 Through St. Boniface Hospital's year-round Employee Giving Program, staff can help fund programs supporting patient-care needs and medical research.
"The great thing is you decide where your donation goes. You choose the program, department, or initiative that means the most to you."
With a range of employee giving kickoff activities getting underway on September 23, Angie encourages all staff to take part, learn more, and give how they can.
"St. Boniface Hospital is such a supportive work environment; staff care about the patients and the community."
---
Employee, patient, family, friend – every donor is an important member of our team – we need you. Donate now.