Bob Moore is bending the rules of St. Boniface Hospital Foundation's fourth annual Run2Believe fundraising event, just a little bit.
"Bicycle Bob", as he is known in his hometown of Killarney in southwestern Manitoba, plans to bicycle about 85 km in one ride on September 19. For him, this is in place of the upcoming event's usual 2 km or 5 km run/walk or 10 km timed run.
"In Killarney, we're calling it 'Ride2Believe'," jokes Moore.
The coronavirus in the province forced the popular event to go virtual this year, meaning registered participants can choose to run or walk on their own from September 15 to 26, either on the provided route – or one of their choice, like Moore is doing. As a rural participant, he won't even be in Winnipeg.
Family history keeps Moore, 75, motivated as he trains and collects donations in his community, to support patient care and groundbreaking medical research at the Hospital.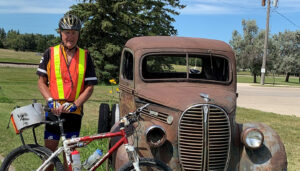 "My father was the owner and operator of Moore Bus Lines, a small passenger bus service," says Moore. "He died more than 40 years ago; to honour his memory, I'll be riding the bus route he started in 1922 – from Headingley, I'll ride west along Highway 26 to Portage la Prairie. Then I'll return east to Oakville, where my dad grew up and started his business."
Moore's Run2Believe ride is also in celebration of his two adult children, both of whom were born at the Hospital. "Their mother received excellent care in the prenatal unit for months, for medical reasons, before each of them was born," he says, adding his son, Nigel, was placed in the Neonatal Intensive Care Unit (NICU) and Intermediate Nursery in 1977.
Killarney residents grateful, generous
St. Boniface Hospital means two words to people in Killarney: life-saving, says Moore. "I know a guy in town who went to the Hospital for surgery three years ago. Something went wrong and he flatlined on the operating table." Luckily, they were able to save him.
"He handed me $30 and said, 'They saved my life, Bob.'"
Already, Moore's friends and neighbours in Killarney have helped him reach his $3,000 fundraising goal. To spread the word, he made his own "Bicycle Bob" flyers and had them printed to help explain Run2Believe and his ride, when he goes door-knocking.
Moore's wife, Sue Ward, works at the local post office and has been collecting donations there on his behalf.
Donations of all amounts have been pouring in. "I talk to everyone in town," says Moore. "When I am downtown or go knock on someone's door, they all know me. It's almost easier to fundraise in a town like ours than in the city, because everybody here knows each other," he says. "I talk to people on the street, at the restaurant; everywhere I go."
"The unexpected donations are the most interesting ones to me. One lady gave me $50 and told me her son was born prematurely 24 years ago and was in the NICU at a hospital in Vancouver. I didn't know about him!"
Manitobans who live in rural areas also rely on the Hospital for life-saving care every day – because of accidents, heart disease, cardiac surgery, premature and sick babies, and more. "I hear they fly victims of accidents and other critical patients on STARS air ambulance helicopters out of Killarney Airport all the time," he says.
---
Register for Run2Believe. You can start or join a team or run as an individual.