August 12, 2021
Rain showers could not dampen the spirits of golfers at the sold-out National Bank Cardiac Classic held Monday, August 9, at Niakwa Country Club.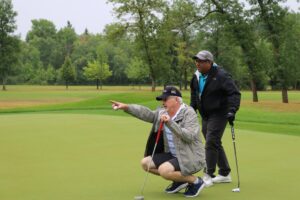 St. Boniface Hospital's annual flagship fundraiser brought in more than $107,000 for cardiac care and research at St. Boniface Hospital. From its inception, the event has now raised more than $600,000 for Manitoba's Cardiac Centre of Excellence at the Hospital.
"Cardiovascular disease is the leading cause of death worldwide. Donors to St. Boniface Hospital Foundation, through events like the National Bank Cardiac Classic, help our researchers to develop new insight into disease mechanisms that will yield benefits in the areas of women's health, prevention, and novel treatments for heart disease, high blood pressure, and heart attacks, ultimately making a difference by saving and improving people's lives," said Dr. Michael Czubryt, Interim Executive Director, St. Boniface Hospital Research.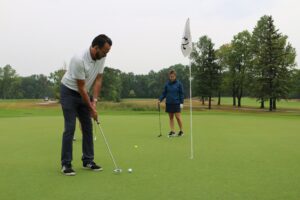 In July, National Bank assumed title sponsorship of the Cardiac Classic golf tournament for the next five years, as part of a generous $150,000 investment in cardiac care and research at the Hospital. Including this latest gift, National Bank has donated more than $430,000 in support of St. Boniface initiatives.
Annually more than 60,000 patients receive care through the Cardiac Sciences Manitoba program at the Hospital. This includes over 1,100 cardiac surgeries in a typical year. The Hospital's program ranked high in the Canadian Institute for Health Information's Cardiac Care Quality Indicators Report (2017) with some of the best scores among hospitals in nine provinces, including the top bypass and valve replacement survival rates in the country, and the second-lowest readmission rate after open-heart surgeries in Canada.
---
Fight heart disease. Donate today.