March 9, 2021
"Food equals gratitude."
Though not the official slogan for the partnership between MITT's Culinary Arts and Design program and St. Boniface Hospital, the phrase captures the essence of a collaboration to support health-care workers on the front lines. In a project that started in January, MITT students prepared and delivered more than 2,800 hot meals to St. Boniface staff by the end of February.
The idea hatched during a fall 2020 conversation between culinary faculty members: instructors Chef Perry Favoni and Chef Curtis Bayne, and production chef Chef Stephen Strecker. Realizing that COVID-19 restrictions would put their students' four-week work practicums on the back burner, the trio set about devising an alternative – one that provided real-world experience for their classes, while also giving back to health-care workers. Strecker pitched the idea to a nursing friend at St. Boniface, and from there it found its way to St. Boniface Hospital Foundation.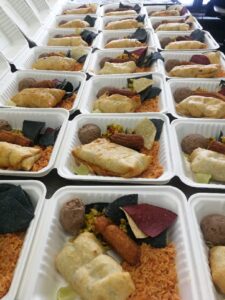 "We are so grateful to the Culinary Arts and Design program and their students for thinking of the front line staff at St. Boniface Hospital – many thanks! This is just another reminder to our staff that they do not stand alone in this fight," said Karen Fowler, Interim President and CEO of the Foundation.
In the winter, students ran the production and demo kitchens at MITT, filling the spectrum of roles, from sous chef to dishwasher, they would experience during a practicum in a commercial kitchen. Faculty deliberately took a step back to help students embrace the level of responsibility they will need to master as professionals, with Strecker providing daily oversight and guidance on everything from meal preparation to inventory counts and time management.
"This is about letting our students take control and become self-sufficient in the kitchen."
"It's great to see faculty support this level of hands-on learning and autonomy. We all know from our own kitchen experiences how invaluable that is to becoming competent, confident culinary professionals," said Strecker.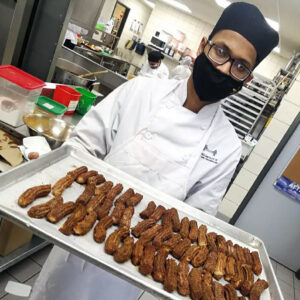 Four-hundred meals were prepared each week, including a 50 per cent complement of options for food allergies and restrictions. Meals were delivered to the Hospital on Fridays in two batches of 200 (around noon and in the evening) to coincide with shift changes.
The Hospital co-ordinated distribution to ensure staff in a variety of departments enjoyed the full-course fare. Weekly menus inspired creativity in the kitchen and helped the students practice their techniques and sharpen their teamwork skills under real-world pressure.
"For all the challenges COVID-19 has presented, it has also inspired new levels of creativity and community spirit," said Ray Karasevich, MITT President and CEO.
"It's great to see our culinary students gain vital experience in the kitchen while giving back to the front line workers who are helping Manitobans get through the pandemic. I commend each of them, and our faculty, for this great initiative and I thank St. Boniface Hospital for helping make this partnership happen."
---
Our thanks to the Manitoba Institute of Trades and Technology (MITT) for sharing this story with St. Boniface Hospital Foundation.
You can join MITT in this critical response effort by giving to our COVID-19 Response Fund today.