January 29, 2021
In recognition of heart month this February and the 150th Anniversary of the Hospital, Winnipeg sculptor Gary Tessier, with his son, André Vrignon-Tessier, and wife, Madeleine Vrignon, were commissioned to design and create a snow sculpture at St. Boniface Hospital in front of the Education Building facing Taché Avenue.
The large snow sculpture took four days to complete, between January 21 to January 24, and is part of the annual Festival du Voyager which is continuing this year with virtual elements. A special thank you to the Réseau Compassion Network who helped support the construction of the sculpture. Tessier gives full credit for the sculpture's design to his wife.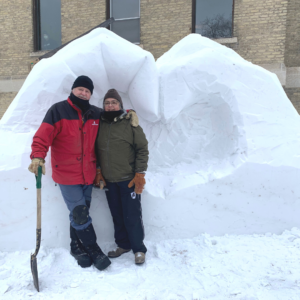 "We had just begun some sketches when Madeleine turned to me and she made the image with her hands that we often see – forming a heart with one's fingers. We immediately decided this was more than appropriate – in view of what we are going through now, and what the Hospital and its staff represent to so many people!"
Tessier holds a personal connection to St. Boniface, as his wife and two children were born at the Hospital, and Tessier himself worked at the Hospital assisting with the 125th anniversary celebrations back in 1996. "I have many fond memories of the big-little hospice on the riverbank and the Grey Nuns who began this incredible place of service" he said.
Tessier named the snow sculpture Merci de tout cœur– Thank you from the heart. "The title came to me after we had finished the piece, perhaps as a personal thank-you to all of those who are working so hard and diligently to assist people in living, and in certain cases unfortunately in dying, during these difficult times. Also, I wanted to thank St. Boniface Hospital for 150 years of service to the community," said Tessier.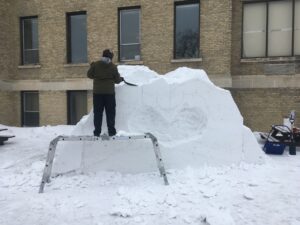 Tessier hopes the sculpture brings a smile to the faces of those who see it, knowing that we are all in this together.
Tessier explained, "the cross in the sculpture relates to the founding Sisters of the Hospital, The Grey Nuns (Les Soeurs Grises) and also, the cross holds significance internationally in health care."
The Foundation encourages you to visit the snow sculpture, while observing social distancing, and take a photo beside it to share on social media! Please tag your photo with our account @STBHF so we can reshare your photos!
To show your love during heart month and support cardiac care, click here to donate.