When COVID-19 started to spread around the world, information was scarce. Today the flow of facts and figures can be overwhelming. For concerned parents and curious kids, it can be extra hard to know which sources are trustworthy. 
Thankfully, families now have a reliable resource to better understand COVID-19.  
Donor support has helped create a new science magazine that's earning the praise of educators, medical and scientific communities, and of course, young readers!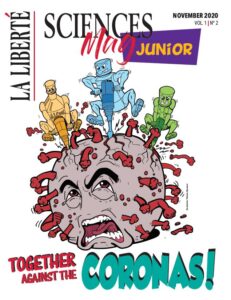 The first two issues of Sciences Mag Junior – No Mercy for the Coronas and Together against the Coronas! – are filled with illustrations and fun to read. They describe the building-block science concepts and information necessary for understanding viruses and this pandemic. At 60 and 64 pages respectively, the two issues are packed with practical tips that help kids (and grown-ups!) understand concepts such as the human body's response to the virus. Some of our cells are like the walls of a castle!  
The high quality of this information is thanks to input from science and health-literacy educators including staff from St. Boniface Hospital's RBC Youth BIOlab Jeunesse!  
Sciences Mag Junior is available to read online and in print. For free. The publisher, La Liberté (Manitoba's French-language weekly newspaper), has made the magazine available through schools, health agencies, and the support of many more partners across Canada and internationally. The first issue has even been distributed to remote Indigenous villages in South America. 
More than 90,000 Internet users in 10 provinces and/or territories have read and/or downloaded the English and French version of the first issue alone. 
By donating to St. Boniface Hospital Foundation's COVID-19 Response Fund, donors have played an important role: helping children and their families to gain knowledge and peace of mind in the face of this global health crisis.
---