It's all about the kids…
On February 26th, RBC Youth BIOlab Jeunesse at St. Boniface Hospital Albrechtsen Research Centre welcomed children from Rossbrook House for some hands-on learning about the lungs, complete with balloons! Rossbrook House is a safe place for children and youth living in the inner-city of Winnipeg, to belong, play, learn and become. Rossbrook's operational philosophy then and now is based upon two fundamental principles: self-help and self-referral. Rossbrook staff are drawn from the community of regular attendees, allowing for realistic understanding of the needs and aspirations of the participants.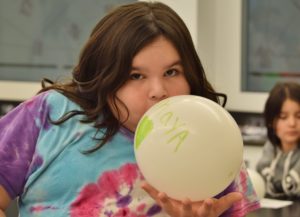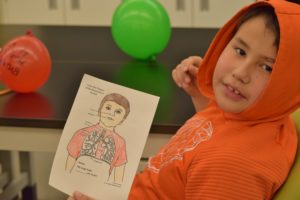 It warms our hearts to support the lab and give young people the opportunity to explore science and medicine. The children's visit was guided by the BIOlab's exceptional teachers Steve Jones and Meghan Kynach. The kids were also treated to pizza, refreshments, dessert AND left with swag bags!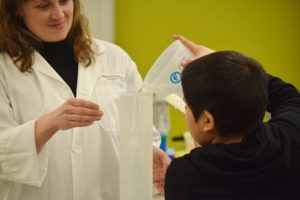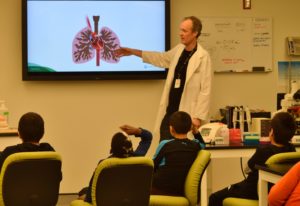 "The outings to the BIOlab are one of the highlights for the children" said Sheila Chippanstance, the Learning Always Coordinator at Rossbrook House. Sheila also helps to select the participants who will be attending the BIOlab.
"They love all of the hands-on learning, especially when they learn about the hearts and lungs.  They also love the food and all the extra treats they get. When we say we're going to the BIOlab they get excited. The younger ones can't wait until they are old enough to go, too."
The hospital welcomes groups from the Rossbrook house multiple times throughout the year, and we are looking forward to the next visit in April. These visits are generously funded by donor support.
Visit the Rossbrook House to learn more.