Pictured: Karen Fowler – STBHF, Bachu Purohit, Dr. Khoo – SBH Cardiologist, and Misha Purohit.
On Saturday, June 22, Purohit Nurse Practitioner Clinic and Trendy Treats are teaming up to host The Heart of the Community, a pop-up ice cream event in support of cardiac care at St. Boniface Hospital.
There will be a variety of yummy frozen treats available for purchase and there will also be raffle prizes and live music.
Stop by Purohit Clinic (parking lot, 600 St. Anne's Road) between 3 – 8 p.m. on June 22!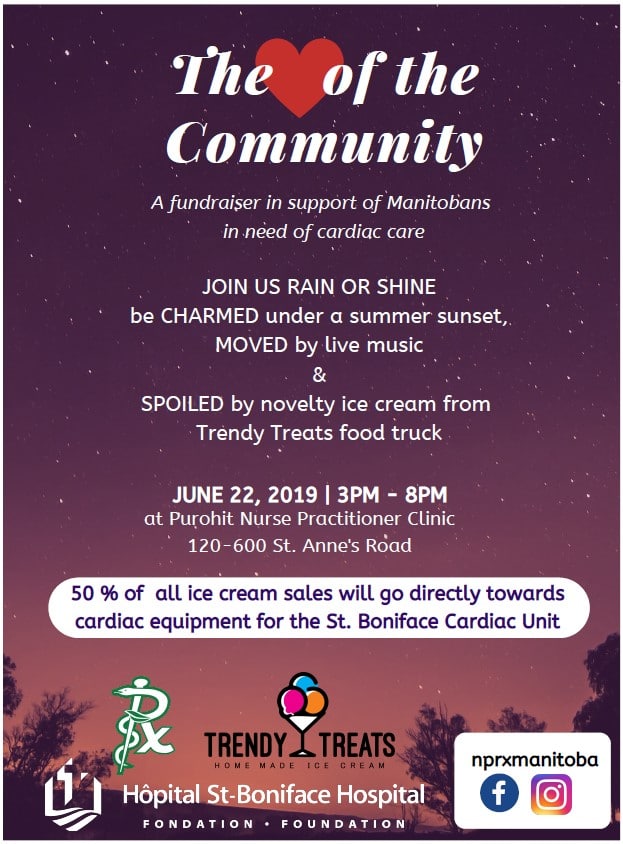 ---
Proceeds from this awesome event will support the purchase of state-of-the-art equipment to treat patients with heart arrhythmias, and heart pillows to support patients during their recovery from cardiac surgery.
Canadian Pacific (CP) has generously donated $20,000 to help purchase an Ultrasound for treating patients with heart arrhythmias. This will enable the Hospital to reduce procedure times for ablations, decrease pain, and lessen complications for cardiac patients.
The Purohit Nurse Practitioner Clinic is a family practice primary health clinic that provides holistic care to individuals across the lifespan. For more information, visit www.nprxmanitoba.com.
Trendy Treats is a locally-owned food truck specializing in homemade frozen treats. They offer a selection of products from classic ice cream in a variety of flavours, to gourmet alcohol-infused flavors like Baileys and Whiskey Maple Walnut. Not a fan of dairy? Try their Swiss Ice products like Sangria and Peach Bellini. There's a little something for everyone! Find them on social media @trendytreatswpg.